Regular price
$17.99 CAD
Sale price
Unit price
per
Sale
Sold out
In Stock
visitors are currently looking at this product
Free Vape Delivery

in parts of the GTA when you spend $50 or more

Free Shipping

across Canada when you spend $50 or more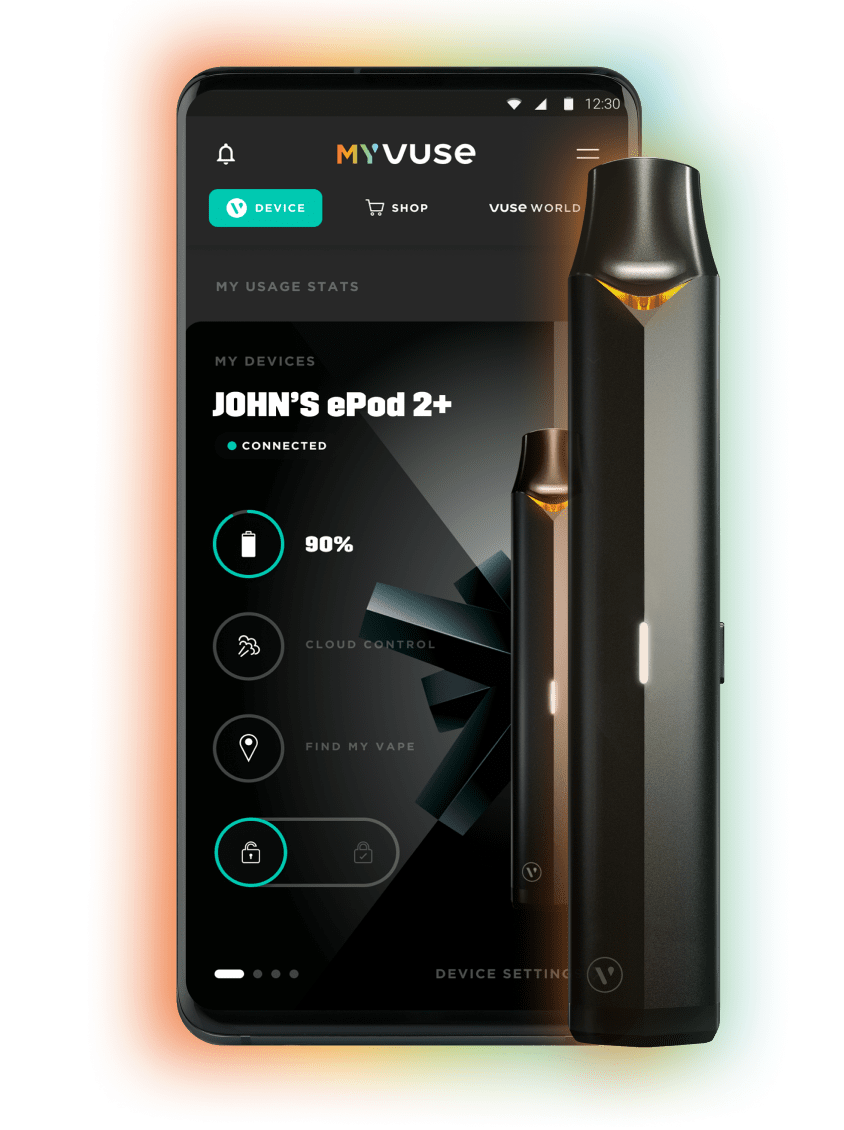 The all-new ePod 2+ is here, redesigned to power your ePod experience.
Featuring a fast charge, bluetooth connection and access to the app which unlocks a world of extra features to take your vaping experience one step further.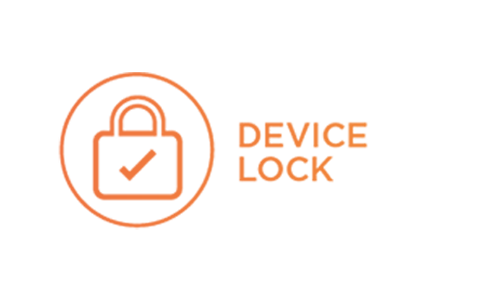 Device lock secures your ePod 2+ so no one but you has access.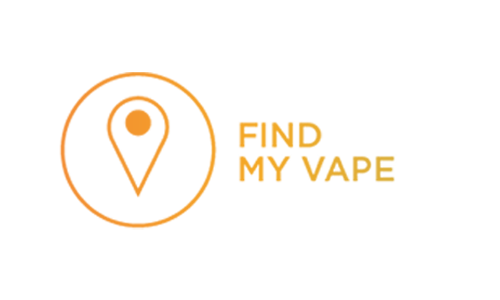 See where your ePod 2+ was last synced with Find My Vape on the myVuse app.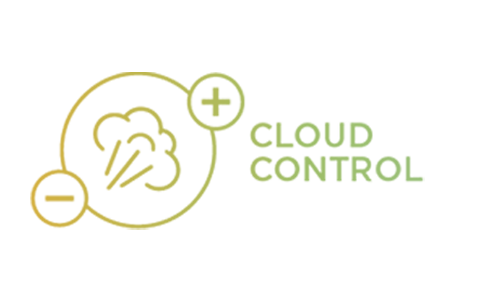 Adjust your vapour cloud size with cloud control directly in the myVuse app .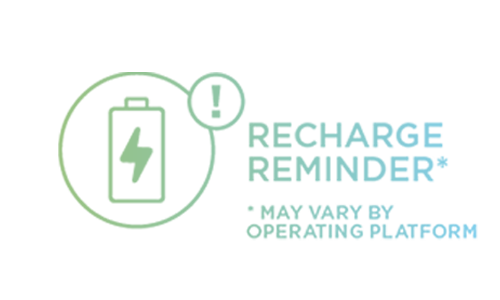 Turn on recharge reminder* on the myVuse app so you'll never be without power.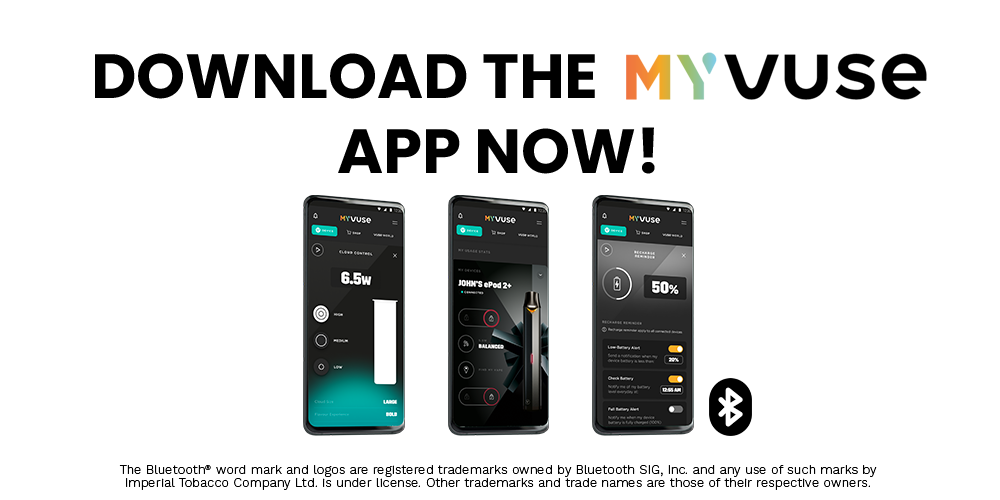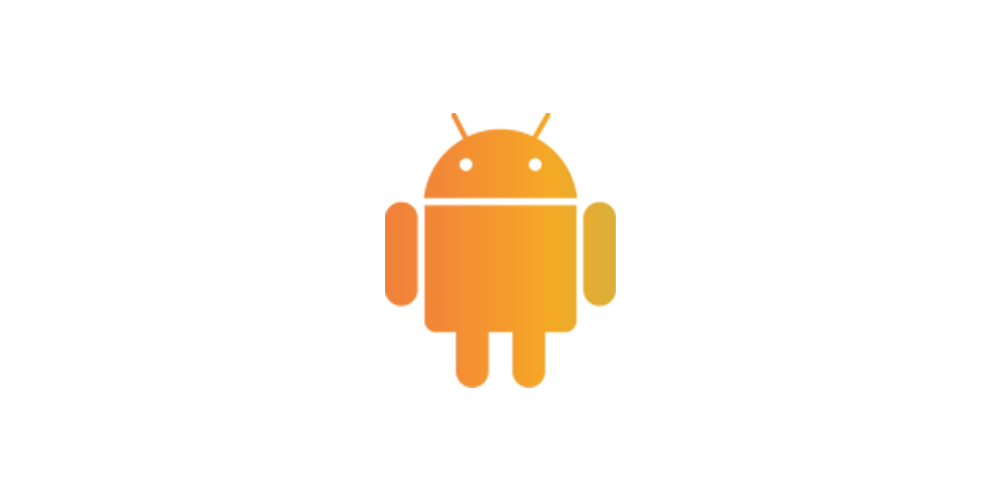 To download the My Vuse app on an Android device, click the button below.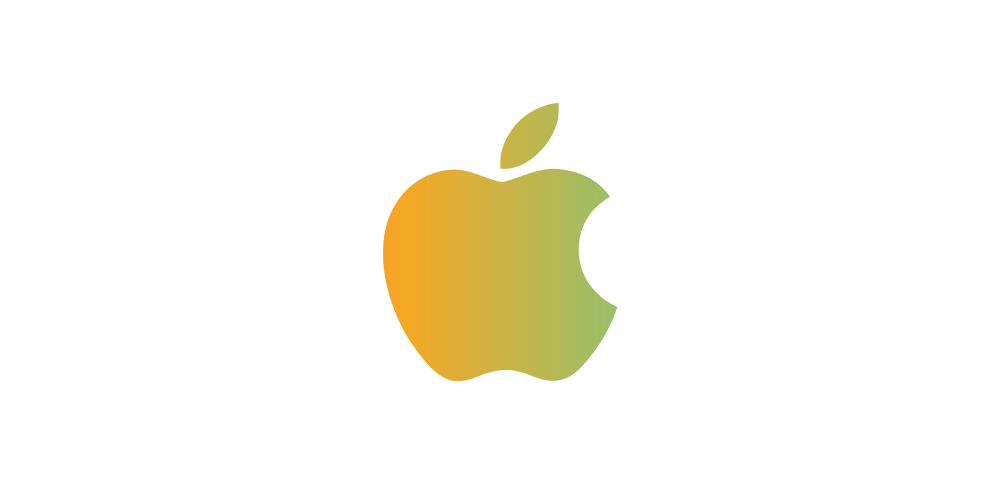 To download the My Vuse app on a IOS device, please follow the steps below.
MyVuse App is powered by the Nuviu app and can be installed on iOS 14.5 and newer.
To take full control of your ePod 2+, please follow these instructions carefully: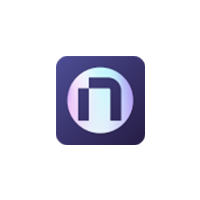 Click HERE to download and install the Nuviu app from the app store.
A custom app created to enjoy the myVuse app experience.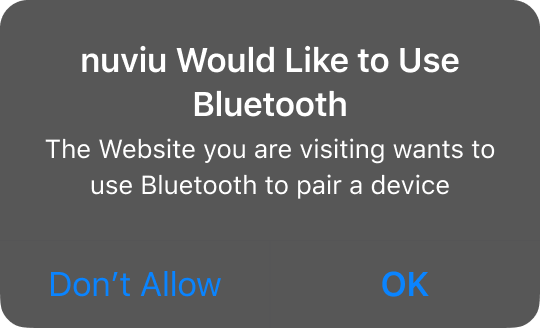 Once downloaded and installed, open the Nuviu app and grant access to Bluetooth.
Note that you must enable Bluetooth to pair your ePod 2+ device.

Copy this link   https://my.vuse.com/ and paste it in Nuviu's URL bar.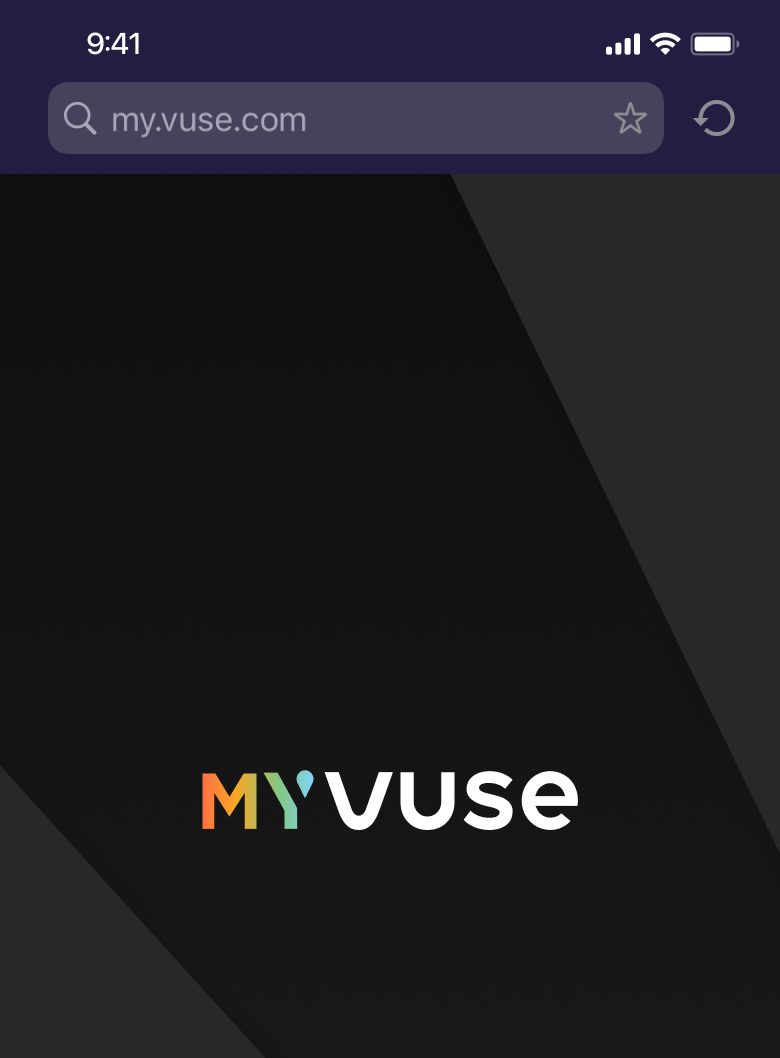 Continue following in-app steps to set up the MYVUSE APP in Nuviu and do not forget to add it to your bookmarks.
Got questions? We've answered some of the most common questions in our FAQs or Contact Us .
For full Privacy Policies on MyVuse App, click here .
View full details
Collapsible content
Free Shipping on Orders over $50

FREE Shipping

Vapeluv offers free shipping (not delivery) on all orders in Canada when you purchase C$50 or more. We usually utilize Canada Posts Expedited shipping option for free shipping in Canada.

We reserve the right to cancel orders we deem unreasonable to ship for free.

In the event your item is not successfully delivered due to an issue that we deem to be your fault (Wrong address, Failure to pick up, Underage), we will deduct the shipping fees from the initial shipment (even if it was free for you), and the fees for the return shipment that we were charged by the carrier from any potential refund you may be eligible to.

At Vapeluv we try to ship all In-stock orders that get placed prior to 12:00 PM EST the same day. In some situations though it may take up to 3 days to process and ship your order. Back ordered items will ship as soon as they become in stock.
FREE Same Day Delivery on orders over $50

FREE Same Day Delivery

Vapeluv offers FREE same day vape delivery: Monday-Friday only. No Weekend Deliveries. Free vape delivery for orders over $50 (before tax). For orders under $50 there is a flat rate charge of $8. You must be in our delivery zone to qualify for delivery.

View Delivery Zones

Vape Delivery Faqs

Q: When is order cut off time?
A: The order cut off time is 2:00PM Monday to Friday

Q: When will I get my order?
A: Your order will arrive between 3:00PM and 10:00PM Monday to Friday

Q: How do I know if I am in the delivery zone?
A: If you see "Same Day Local Delivery" at checkout you are in the zone. If you do not see that and only Canada Post Shipping options unfortunately you are not in the delivery zone.

Q: Is shipping the same as delivery?
A: Shipping is not the same as delivery. Shipping is with Canada Post and can take 1 to 4 days Xpresspost or 1 to 7 days with Expedited Parcel. Delivery is done with a third party courier service specializing in same day deliveries.

Q: Do I have to be home to accept delivery?
A: It depends. If you live in a home where the package can be safely placed you do not have to be home. If you live in a condo or apartment you will have to be home.

Q: Do I have to show ID
A: Yes you must show your ID to the driver so please have it ready. Arrangements can made prior to delivery for age verification. For more info please email us at info@vapeluv.com or call us at 647-351-0168
Price Match Policy

Vapeluv is proud to offer a Low Price Guarantee to our valued customers. If you find a lower price at another local vape store in the GTA, simply show us proof and we'll match that price. To receive a price match from Vapeluv, the item must meet the following criteria:

Be from a Canadian store with a physical location. We do not match prices from stores outside of Canada or online-only retailers.
Be listed at its regular price and in stock. Clearance or sale items do not qualify for price matching.
Be the exact same model and color as the item offered by Vapeluv.
Have valid proof of a lower price, which must be verified by a Vapeluv staff member.

For online price match requests, please call us at 647-351-0168 or email us at info@vapeluv.com with proof of the lower priced item ready.

If you've already purchased a product from Vapeluv and we've reduced the price, you may be eligible for a price adjustment if the product was purchased within the past 15 days. Price adjustments will be credited in the form of store credit. However, special sale discounts or holiday discounts cannot be retroactively applied to any orders made prior to the sale.
Loyalty and Rewards

Here at Vapeluv we have THE BEST rewards program for Vape Shops across Canada. Our points range between 2-5% per purchase* all depending on how many points you have. The more points you have the more they're worth!

* Clearance products do not apply

How to Earn Rewards

$1.00 spent = 1pt
Create an account 200pts
Referring friends 100pts
Following on Instagram 50pts
Liking on Facebook 25pts
Sharing on Facebook 25pts

How to Use Rewards

100-300pts = 2% Savings
100pts = $2 Coupon
200pts = $4 Coupon
300pts = $6 Coupon

400-600pts = 3% Savings
400pts = $12 Coupon
500pts = $15 Coupon
600pts = $18 Coupon

700-900pts = 4% Savings
700pts = $28 Coupon
800pts = $32 Coupon>
900pts = $36 Coupon

1000pts = 5% Savings
1000pts = $50 Coupon
Warranty and Return Policy

Vapeluv Warranty and Return Policy
Vapeluv offers a 30 day replacement warranty on defective hardware for customers who purchased from our online vape shop or vape stores. The following items are covered by our warranty program: device charging issues, internal battery issues, chip and LCD display issues, and auto firing or other device firing issues. Please note that only these issues will be honored under the warranty.

Disposable Devices:
Vapeluv offers a limited DOA warranty on disposable devices within 48hrs. If your disposable device does not work on first-time use, we will replace it free of charge. The disposable vape MUST be returned in the original packaging with tax stamp. We cannot process the return without it no exceptions.

Prefilled Pods:
Vapeluv offers a limited 48hr return policy if the pods have not been used and are leaking. The pods MUST be returned in the original packaging with tax stamp. We cannot process the return without it no exceptions.

STLTH:
Vapeluv does not handle STLTH warranty items. They must be handled directly by STLTH here: https://stlthvape.com/pages/contact-us

E-liquid:
For consumer safety reasons, all e-liquid purchases are final sale and are not subject to any warranty nor eligible for return or exchange. If you find any variation in e-liquid from bottle to bottle, it may be due to steeping, exposure to heat or sunlight or a change in device/product resistance.

Tanks, Coils, and Pods:
Due to their consumable nature and limited life expectancy, Vapeluv offers a limited DOA warranty on atomizer tanks, atomizer coils, and pods. If these products do not work on first-time use, we will replace them free of charge provided you return the defective products in their original packaging with all original components for confirmation and testing to determine the issue.

Learn More
Why Customers Love Us
Our customers love us because we're in this together. We love our customers and they love us back. Why? Service, partnership and dependability.